Gerard Le Feuvre. Director/cellist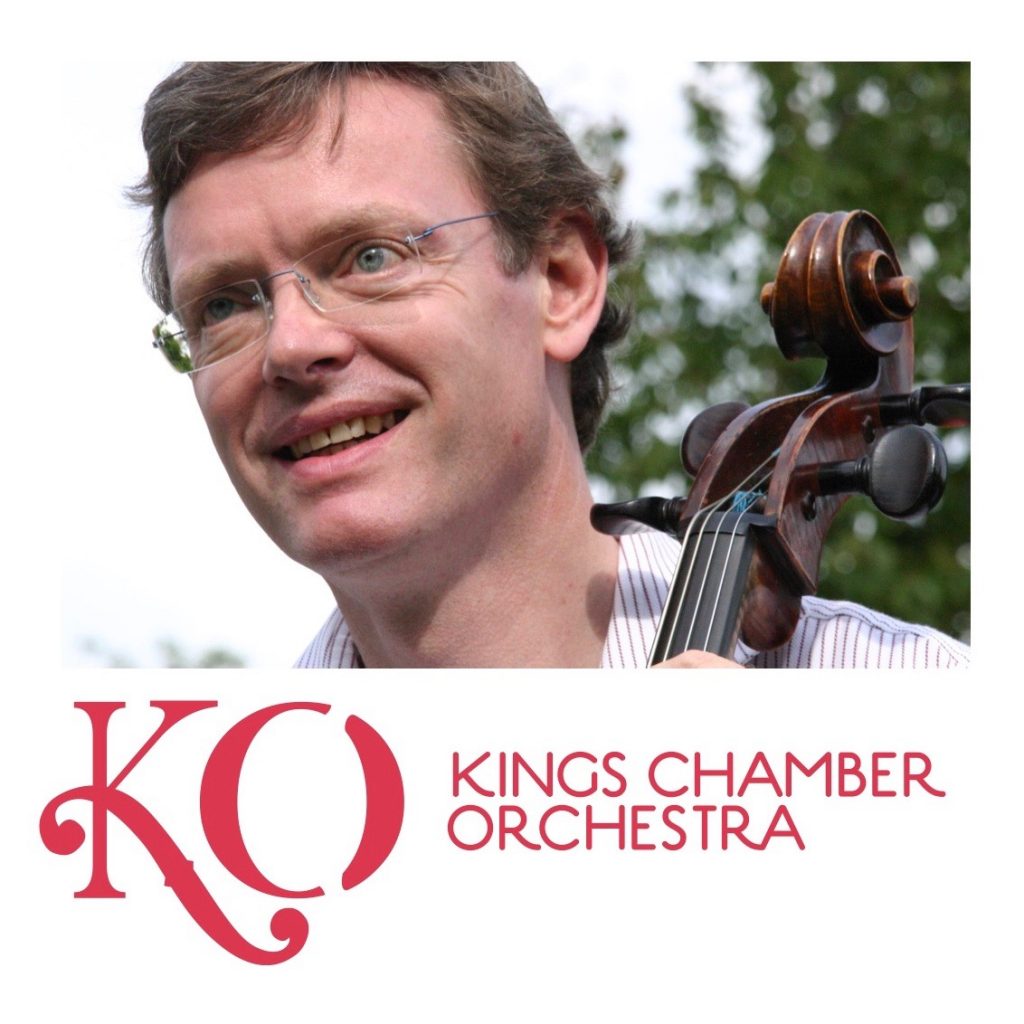 Gerard first fell in love with the cello listening to Jacqueline Dupre. His passion for the instrument led to scholarships to Charterhouse school at sixth form, then the Royal Academy London, the Sibelius Academy Finland, the Banff Arts Centre Canada, and for shorter periods to the USA, Switzerland and others. Gerard won many awards and accolades and went on to perform as chamber musician and soloist in over 1000 concerts during the last 30 years. He was in the 90s a member of the English String Quartet and director of the London Festival of Chamber Music education programme.
Extraordinarily boring family concerts with a London Orchestra caused Gerard to discover his super power: bringing music alive to everyone (especially children) beyond the usual boundaries of formality money and protocol. Gerard loves working with the Kings Chamber Orchestra who regularly delight fresh audiences of many thousands a year with fantastic music and humorous reflections on the life musical.
Mary Young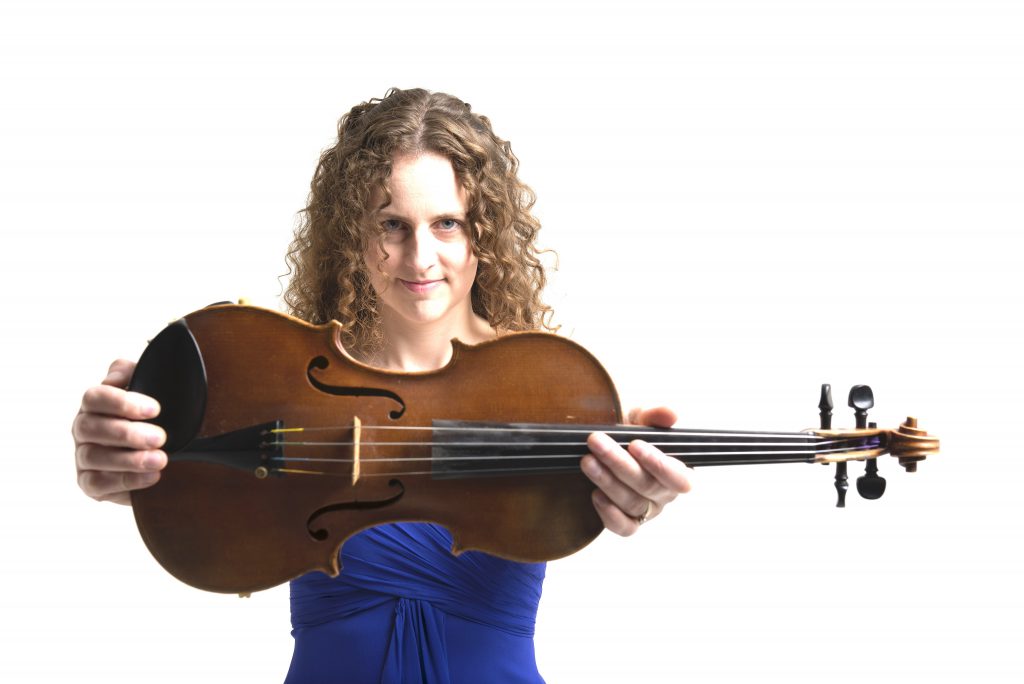 Mary studied the Violin with Eszter Boda Katona at Trinity College of Music in London. While there she won the John Barbirolli string quartet prize, and was the youngest person to win the TCM association Soloist competition. Mary performs with Pianist Merel vd Knoop on cruise ships, in care homes and concert venues, and she has recorded music for short films including 'The Violinist', adverts such as Littlewoods, Oatibix, Open doors Christmas appeal, and an advert featuring Serena Williams. She also worked on an episode of Rogue Traders, and on Later live with Joolz Holland. Mary enjoys performing chamber music with various groups, and is a fully accredited Suzuki Violin teacher. In her spare time she is learning to sew.
Sonja Tuomela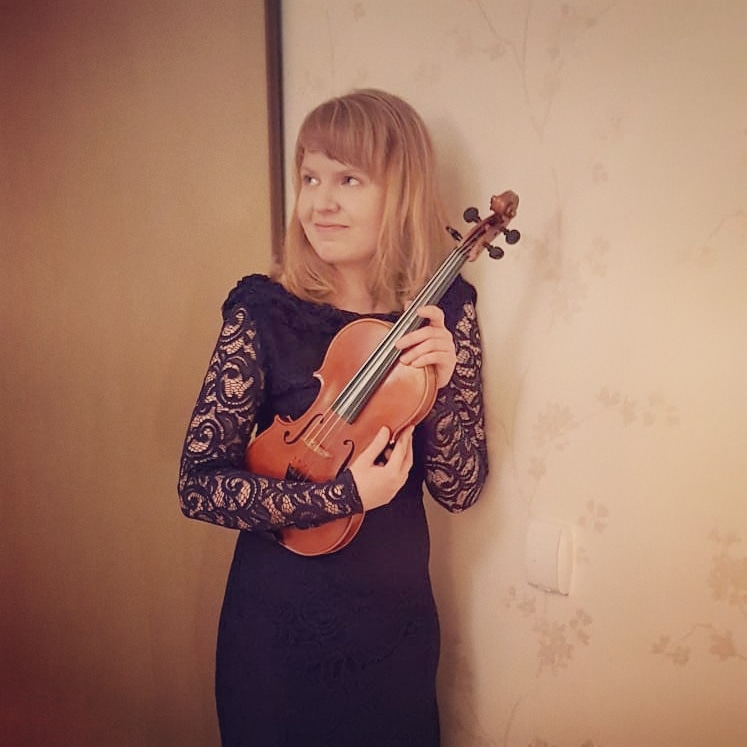 Sonja Tuomela is a Finnish violinist currently studying for her undergraduate degree under Professor Sophie Langdon at the Royal Academy of Music, London. Her performances include events such as the 'Suomi 100' concert series at the Finnish Embassy in London and the semi-finals of the St Martin-in-the-fields chamber music competition. She also regularly performs as a member of the King's Chamber Orchestra.
Sonja is interested in numerous musical styles. This season, she will appear in the 'Healing the Heart' cinematic album recording with Joe Leader. She has performed contemporary music in projects such as Metropolia University 'Chamber Music of Our Time' Festival, and the Finnish premiere of the 'Miksi Juuri Minä' ('Why Me') chamber opera by Timo-Juhani Kyllönen. Sonja is also a keen folk musician, and she has performed as part of the 'Näppärit' folk music group formed by Mauno Järvelä.
Michael Schofield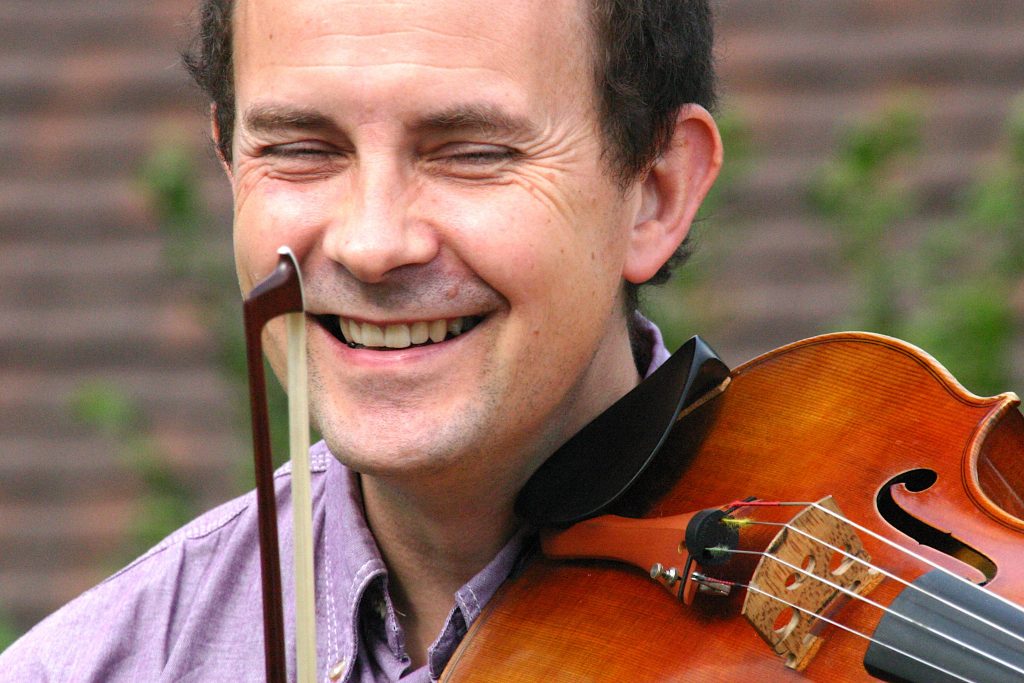 Michael completed the Joint Course at the Royal Northern College of Music and Manchester University, studying violin with Richard Deakin and subsequently joined the BBC Symphony Orchestra.
Other orchestras for whom Michael has also played include the Philharmonia, the Royal Philharmonic Orchestra, Welsh National and Glyndebourne Touring Opera companies and chamber orchestras such as the King's Chamber Orchestra, London Primavera, City of London Sinfonia, London Mozart Players and the English Chamber Orchestra.
As violist of the Bridge String Quartet, Michael has performed extensively, throughout Europe and in the USA, and willingly provides much of the research behind the Bridge Quartet's many pioneering recordings in the field of English chamber music.
Matthew Begg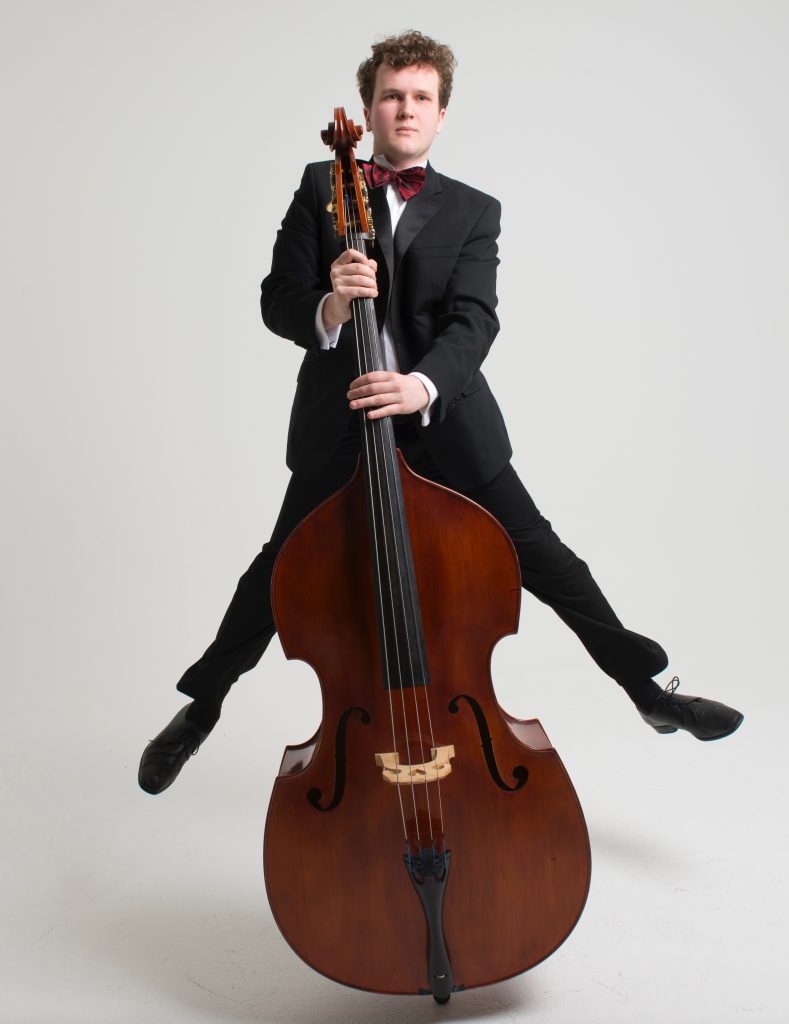 Matt graduated from the Royal College of Music in 2018, where he studied Double Bass with Caroline Emery. Since moving to London, Matt has freelanced with many groups, and worked regularly with the Kings Chamber Orchestra.
Matt's musical work is varied, playing with orchestras, jazz groups and musical theatre pit bands. He is also very involved in music education, working at the Warwick school as well as regularly in outreach programmes around London.
Previous Artists
John Smart. Violin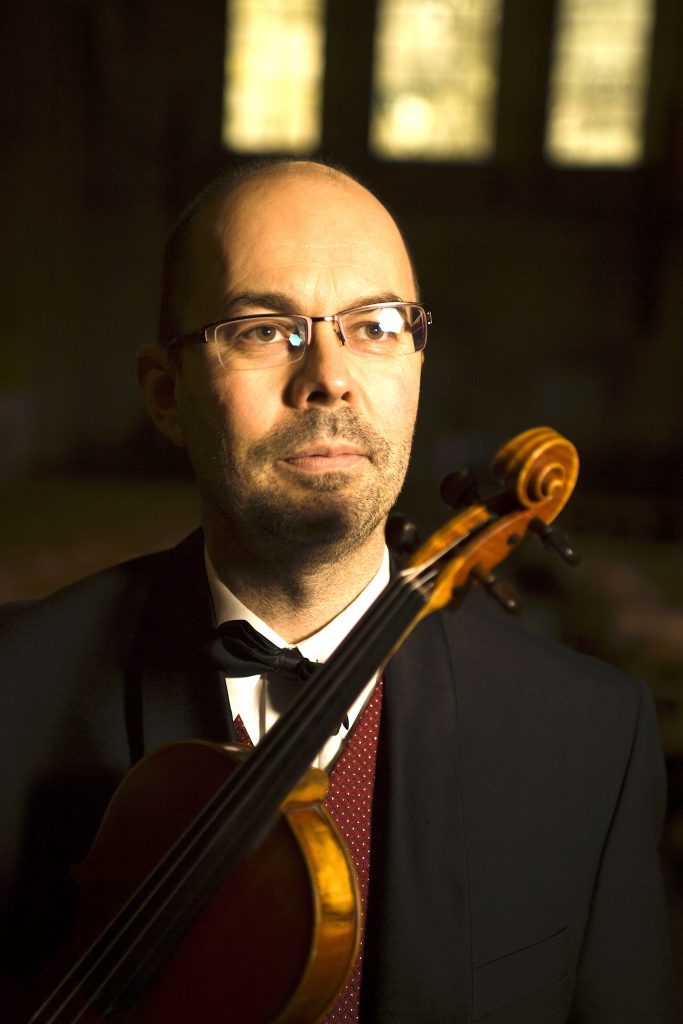 John started the violin at the age of 6 and has been playing professionally for over 25 years. He has worked with many different orchestras, opera companies and ensembles, including English Touring Opera with whom he has played annually since 1998. John especially enjoys playing with chamber orchestras, he has been a regular player with the Kings Chamber Orchestra since 1995 and he also co-leads the Apollo Chamber Orchestra. John has travelled to five of the seven continents so far with his violin, both with classical ensembles and also with various christian orchestras and groups. He also enjoys playing chamber music and has made numerous recordings with the Iskra String Quartet. He is very active in Educational work, working with the Apollo String Quartet with whom he has brought live classical music to more than 6,000 Primary School children in both East and North London. In his spare time John enjoys watching films, hill walking, and drinking great quality, robusta-blend coffee.
Emily Groom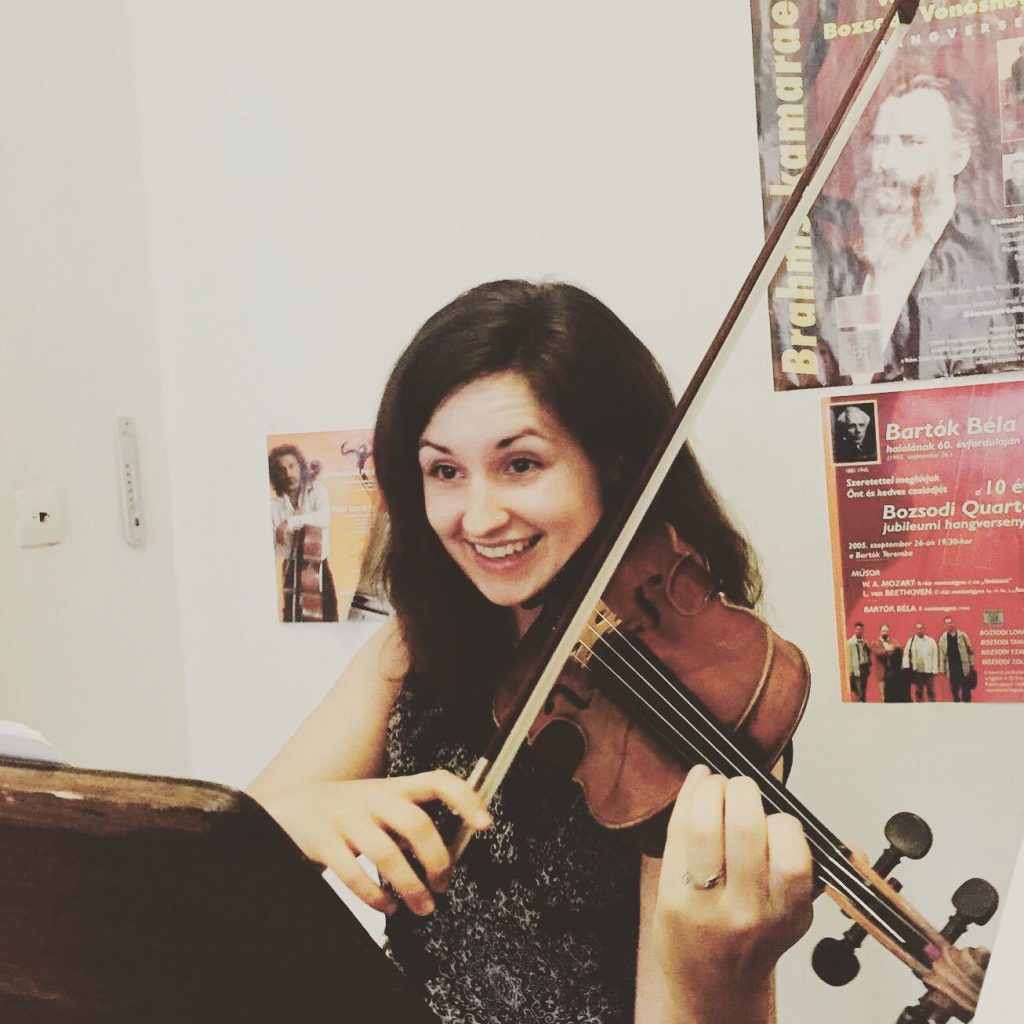 Having grown up in Worcestershire, in 2009 she gained a place to study at the Royal Welsh College of Music and Drama with, Gabrielle Painter and in 2015 was awarded a place to continue her studies at the Royal Academy of Music to study her Masters with Richard Ireland. During her time at the Academy she has played with the Royal Academy Symphony and Opera Orchestras as well as in various chamber groups.
Emily has appeared at various classical music festivals such as the St Endellion Festival and Bozsok Music Festival and performed on BBC Television and Radio broadcasts and recorded for NAXOS record label.
As well as performing, Emily enjoys teaching and coaching string players. She has held teaching positions in schools around Cardiff, London and the prestigious Wells Cathedral School.
Katie Le Feuvre – viola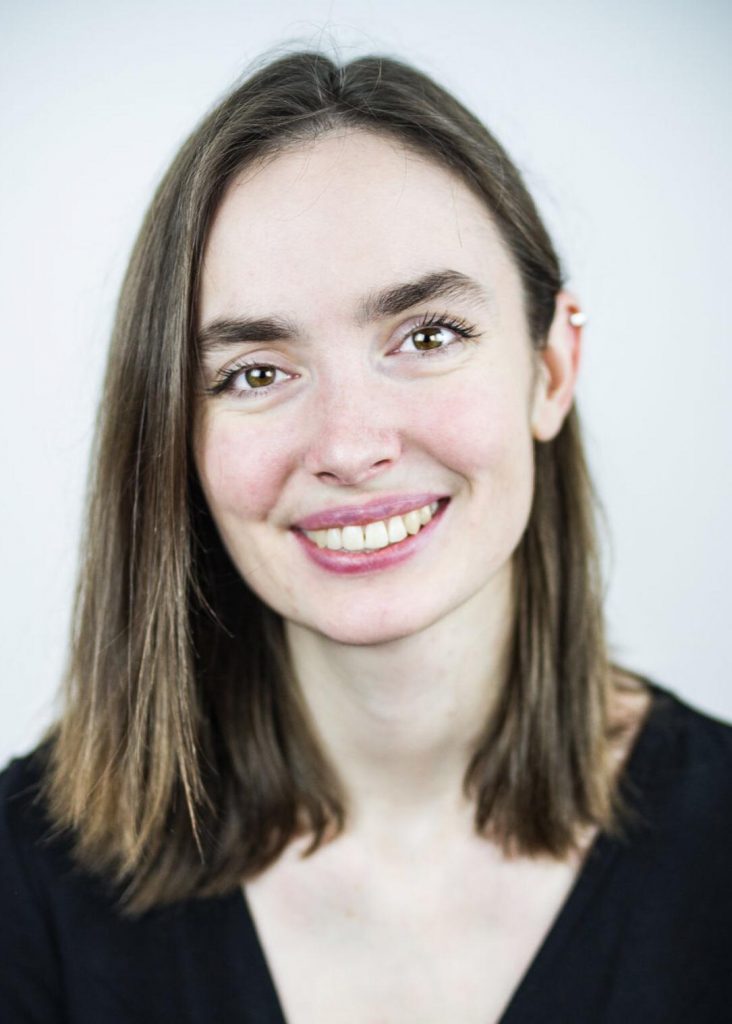 Katie Le Feuvre Studied in Jersey at St Mary's school and JCG before taking upon a place at Wells Cathedral specialist Music School at 16. She won a scholarship to the Royal Academy studying viola with John Thorne and is a member of several ensembles in London as well as the Kings Chamber Orchestra. Katie's early freelancing has enabled her to play in the Royal Albert Hall, London's Festival hall, and many others, broadcasting on BBC radio 3 and several TV stations with leading and diverse orchestras. At the Royal Academy a highlights included taking part in a side by side opportunity playing with the Czech Philharmonic. She also formed a quartet – the Mousai Quartet, with whom she has given a number of concerts across the country. During the coming year Katie plans to continue post Grad studies in Denmark andfurther develop her contacts and friendships in Europe.
Kathryn Monteiro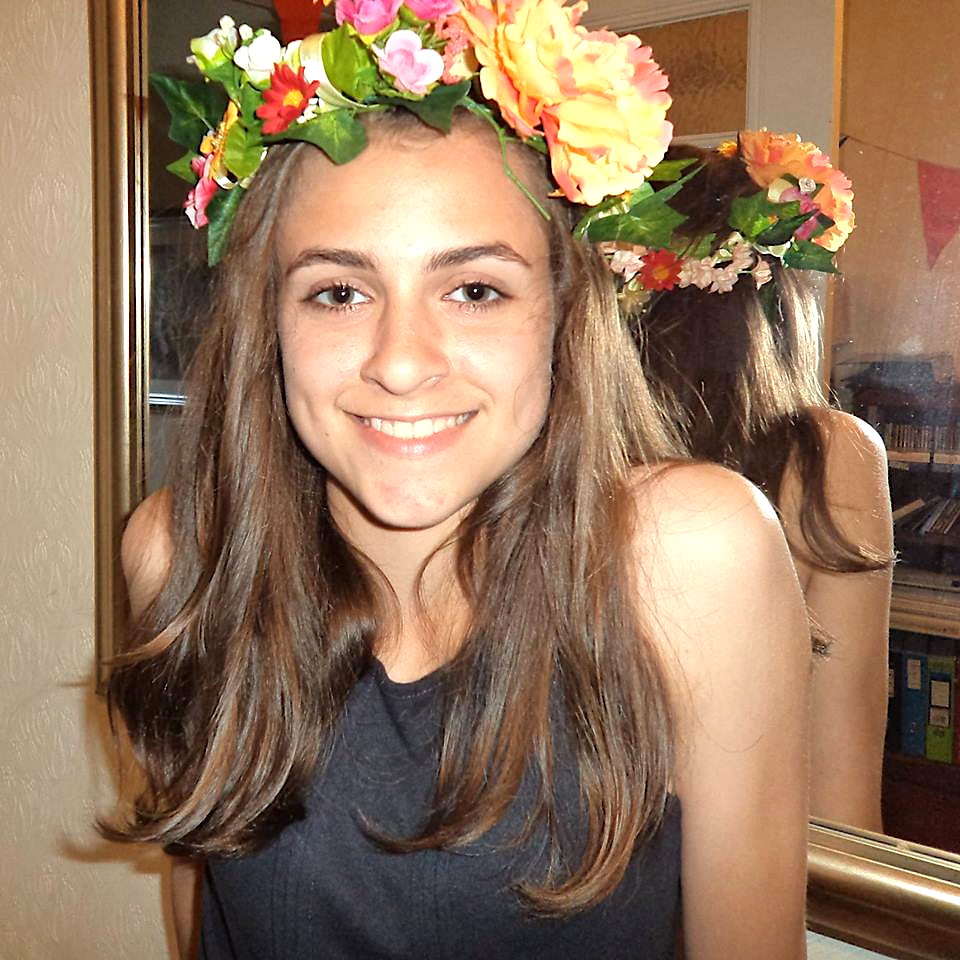 At six years old, Kathryn began studying the cello with Katherine Jenkinson, who later prepared her for entry into the Royal Academy of Music. Kathryn is now in her second year at the Academy, studying with Felix Schmidt.
As a young musician, Kathryn was a music scholar at Derby High School and Repton School where she held a focal position in their music, music theatre and drama life. Alongside these opportunities, she enjoyed the role of lead cellist at the City and County Youth Orchestra, and playing in the National Youth Orchestra including at the BBC Proms (2016).
Kathryn has also played with the Derby Concert Orchestra, Nottingham Philharmonic Orchestra and in an Academy project with the Bern University of Arts Orchestra.
Dan Hester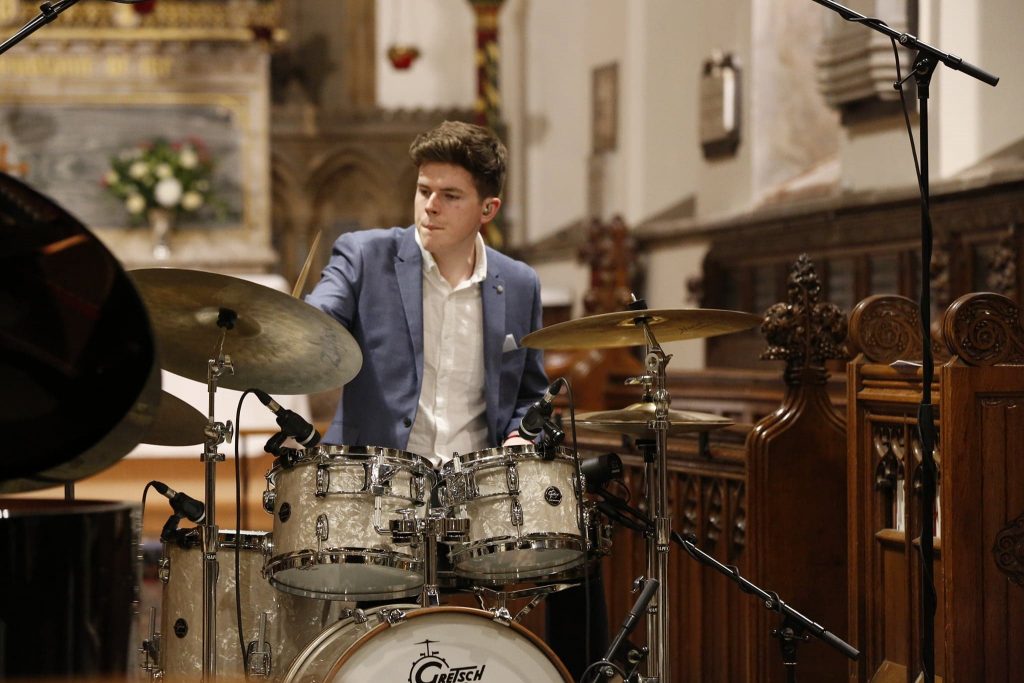 Dan Hester is a London based drummer, currently studying Jazz at the Guildhall School of Music and Drama. He has performed in musicals, numerous small ensembles, orchestras and big bands, including his own. Last year he played in the UK premiere of the Broadway show 'Nice Work if You Can Get It' and in early 2019 worked alongside world renowned bassist Rufus Reid, performing the UK Premier of Rufus' 2 Grammy award nominated album 'Quiet Pride – the Elizabeth Catlett Project'. Daniel has studied with some of the UK most respected drummers, such as Matt Skelton, James Maddren and Trevor Tompkins.
James Horsfall piano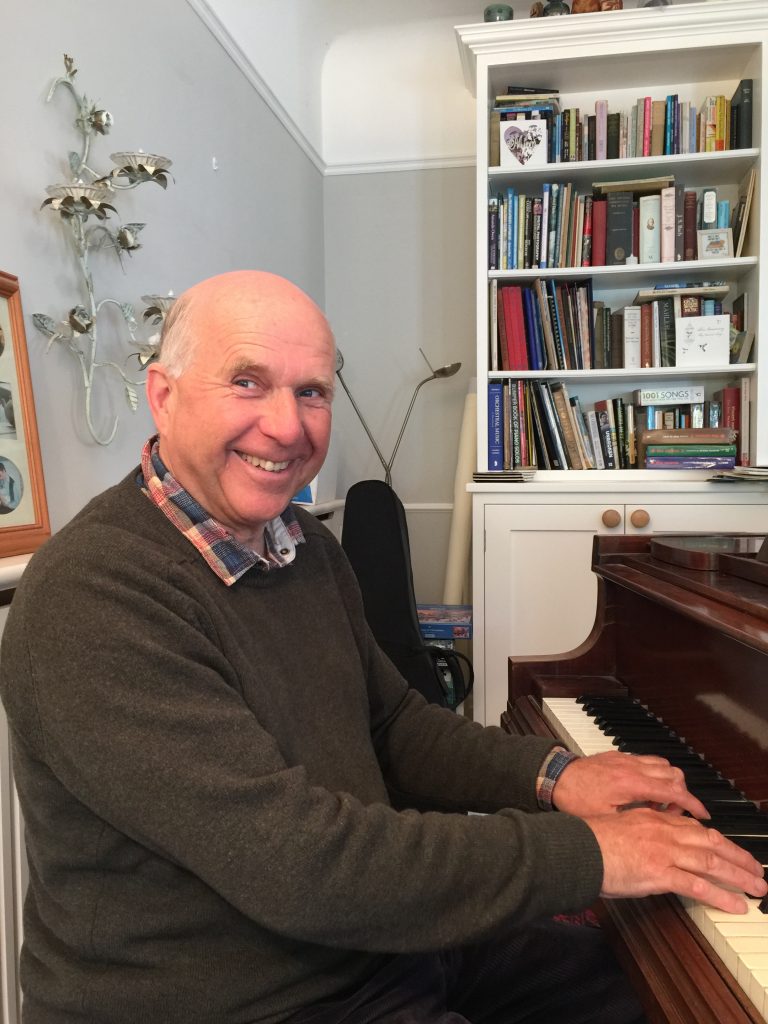 One of Jersey's most distinguished musicians was a chorister at Ripon Cathedral before studying with music scholarships to Dean Close School, and Magdalene College Oxford. He did further studies at the Royal College of music and emerged to forge a career as pianist, teacher and composer. Gerard has performed his works on at least 3 continents over 30 years. James is married to Jane, an equally distinguished musician, and they arrived in Jersey in the 1970s. In the fertile environment of our beautiful island they have produced 4 children and 5 grandchildren.
Imma Setiadi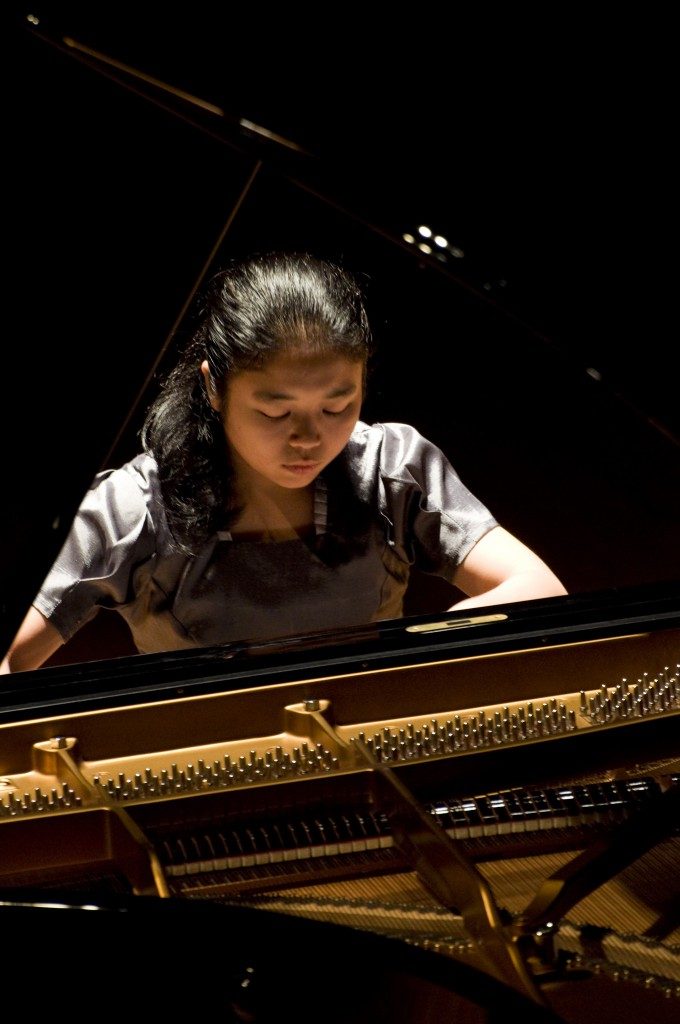 Pages: 1 2